How to choose the size for woman tights
Each package of Franzoni tight presents the following size chart on the back in order to help you choose the correct size during the purchase.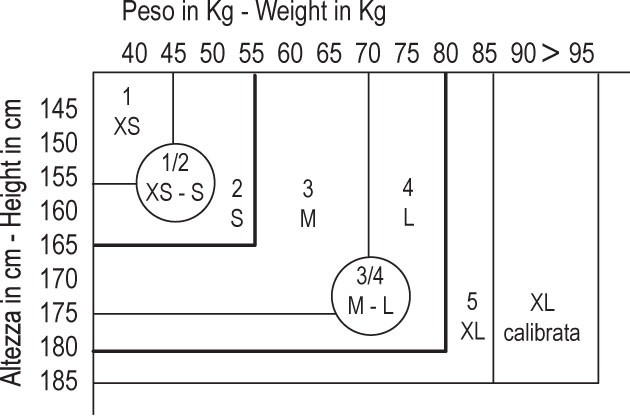 As you can see, the higher part of the chart reports the weight in Kg, whilst on the left the height in Cm. The intersection of these two measures suggests us the better size for our physique.
As we can note, the size is expressed both in 1 – 2 – 3 – 4 – 5, the same for the hosiery sector, and XS – S – M – L – XL, as for woman clothing. Instead, the calibrated XL has a unique denomination because it is special. The lettering "calibrated" denotes, in fact, the back panel that creates a better wearability of the brief. In conclusion, some Franzoni's articles are created with an elasticity that can cover two sizes. For this reason, on the chart you can note the marked line that separates the double sizes 1/2 (XS-S) and 3/4 (M/L).
The wearability of the tights is a very important factor because it is an item of clothing created to perfectly adhere to the body. The hose has to be confortable and it accompanies all the movements of the day as an underwear cloth but winking the eye to fashion and to aesthetic. The quality of these products guarantees wearability and comfort by the study of the yarns and technical construction of each article.